No matter where you are, let's meditate together!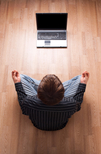 Do you want to learn how to meditate or just need coaching to make your practice a habit?
We will be here for you. During the online meditation session you will have a chance to discuss meditation and meditative techniques as well as receive all the appropriate guidance and mentoring.

How does it work?
You book your class, pay on line, receive an email with the confirmation and all instructions to participate. Our Skype address will be send to you by email. All students are required to connect us by Skype 5min. before the time scheduled for the class.

---
Choose session type: One-on-one Session, Course, Meditation Coach, or Group Class
Booking: Check our scheduled group or email us if you want to have one-on-one session in your own schedule.
Duration: 15min., 30min., 45min., or 60min.
All levels are welcome.
Easy payment: After you book your class we send you a confirmation and an invoice by email to be paid on line by PayPal or credit/debit card. Payment must be made in advance of each class. If the class that you booked is sold out you won't receive the invoice but an email with time options to reschedule. If you reschedule your class you'll receive the invoice right after the confirmation with the new time.
Cancellation Policy: If more than 24 hours notice is given then you can reschedule a session if needed. No refunds are given for cancellations.