The possibilities that we can create for ourselves are endless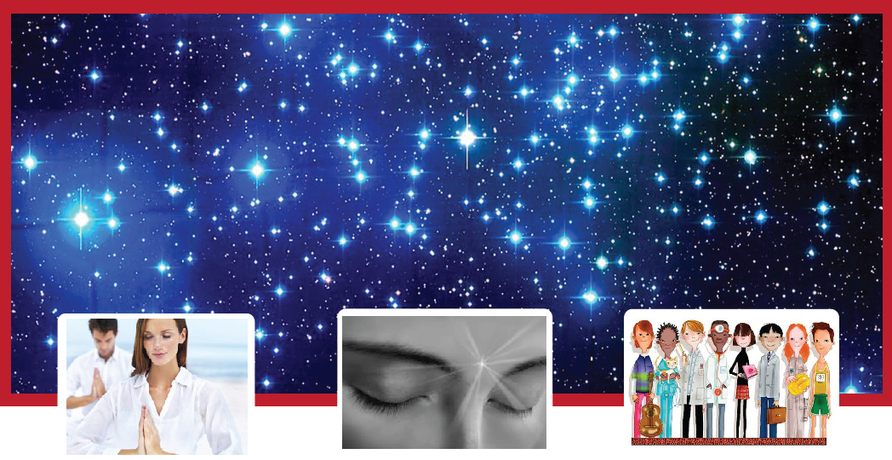 Peace within you.

Dharana Star Meditation - Discover the resources of your soul to feel peace, joy, and enthusiasm in your life. Simple techniques that everyone can enjoy. Meditation made easy for beginners. You can do it! Come and feel peace with us!

Read more...

Mind, heart, and soul in shape.

Inner Self Workout - It's about focusing on yourself. You'll learn simple ways to balance your everyday emotions, see your issues as a spectator, have fun, and relax. This wellness session is a quick solution to boost your day with balance and power. The first workout created for your inner self. We don't use physical exercises.

Read more...

Empower your team!

Happier Corporation Program transforms the corporate culture into a culture of happiness. Meditation or Inner Self Workout teachings are used to promote self-knowledge, self-awareness, and self-improvement resulting in a change of behavior, mindfulness, and increased harmony in the workplace.

Contact us and have a trial session for your company. Read more...
Do you want to learn how to meditate or just need coaching to make your practice a habit? We will be here for you. During the online meditation class you will have a chance to discuss meditation and meditative techniques as well as receive all the appropriate guidance and mentoring in real time.

Read more...

---

Harmony and Joy Workshop

We play many roles in our lives: parent, spouse, professional, friend, etc. How do you feel about these roles? Are they operating in harmony to fulfill your aspirations and make you happy? Here you will have time and guidance to go deep in yourself and find balance for each role that you play in life.

Click here for details

---

Expressive Art Therapy

Your inner voice has a lot to say to you. The Expressive Art Therapy session allows you to listen to this voice. The sessions may incorporate writing, drama, dance, movement, painting, and/or music. You create new experiences, insight, and direction. It's fun, deep, and very powerful. You don't need to have artisitc ability. Just surrender and go with the flow! Contact us for private sessions in person or on line.

---
Establish a new lifestyle feeling good from the inside out


All our wellness programs are based on Neuroscience, Psychology, and Meditation techniques. We have a holistic approach using these tools in a simple way that everyone can enjoy and have excellent results.
We developed interactive and participatory workshop-sessions. It means that you will practice what you learn.
We teach several techniques for meditation: mindfulness, breathing exercises, visualizations, affirmations, mantra (sound), energization, etc.

The benefits are endless
How to create positive states of being

We are in essence very positive and capable to be happy. Our soul is full of potential. So, why do our minds carry non-productive thoughts and feelings? How do we change our state of being?

Read more...

---

Meditation Made Easy - Part I

I always find people saying that meditation is not for them because their minds don't stop, they are too busy or that it is too complicated. Meditation is not difficult and most of the techniques are very simple. Learn step by step how to start doing meditation.

Read more...

---

---

---
About us
Our Founder
Ester Castruita has MBA in marketing and communication, experienced in creativity as advertising professional, and teacher of meditation. She led group meditations in Brazil for almost 10 years before coming to US. She has studied Expressive Art Therapy (psychology), yoga and practiced meditation through the teachings of Paramahansa Yogananda, great master of Kriya Yoga, for 15 years. She developed the unique concept "Yoga of Creativity" and the exclusive method used for "Inner Self Workout". She has made California her new home and launched Dharana Star in San Diego to be reference for corporations and individuals to cultivate happiness through self-knowledge. She loves people, travelling, music, philosophy, and arts. She is prepared to guide you with a lot of joy, patience and willingness to make your experience awesome!


---

Contact us:
(619) 519 5133
info@dharanastar.com
San Diego, CA

Dharana Star - Inner Self Workout

Our Goal
Dharana Star is a company created to promote well-being through self-knowledge. We believe that our potential as a spiritual human being is unlimited and all that we need to do is to explore the power within ourselves. Our goal is to help people find their own way to achieve self-realization and improve happiness level in many aspects of life.

---